(Boh(e)mian dialogue)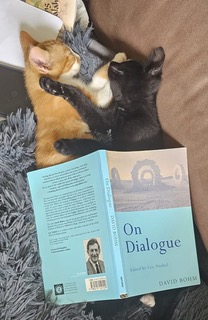 door Floris Rommerts, 1 augustus 2023
Een jaar of 20 geleden maakte ik kennis met Bohm's boekje "On Dialogue", via het werk, dat ik al enige tijd deed voor en met Dialogos, toen met Bill Isaacs, Robert Hanig e.a. Ik was al gewend aan de nu gebruikelijke modellen "Polite-discussion/debate-explore-creative" en "Voice-Listen-Respect-Suspend" met Stilte als centraal punt.
Ik heb inmiddels "On Dialogue" drie keer gelezen. De eerste keer vooral als "filosofie", de tweede keer zo'n 4 jaar geleden, nadat ik me intensief bezig had gehouden met o.a. non-dualisme en de afgelopen weken, na onze on-line dialoog van 15 juni.
Door de non-dualistische meditaties en onderzoekingen, las ik Bohm de tweede keer met verrassend nieuwe perspectieven, die, (en dat klinkt vreselijk wijsneuzerig) opeens overeenkwamen met mijn eigen ervaringen.

De laatste keer, als opmaat naar dit stukje, om er zeker van te zijn, dat mijn impressies van toen nog steeds golden.
Met de uitnodiging voor een Bohmiaanse on-line dialoog werd mijn nieuwsgierigheid geprikkeld door het gebruik van de naam Bohm. Hoe was een Bohmiaanse dialoog anders, dan de dialoog die ik al jaren gewend was ? Van de toegestuurde stukjes werd ik niet veel wijzer en ook collega's konden niet precies de vinger leggen op de specifieke inbreng van Bohm. Spannend !
De laatste minutieuze lezing van On Dialogue en een email van mijn vriend en collega Robert Hanig bevestigden mijn vermoeden, dat vrijwel alle elementen, zoals die in de bovengenoemde modellen voorkomen, vermeld worden in dat boekje en dat de Dialogos-modellen inderdaad, via o.a. Peter Garrett (A New Kind of Dialogue), gebaseerd zijn op de gedachten en de praktijk van Bohm.
Maar ook, dat een element van persoonlijke transformatie zelden terugkomt in gesprekken, waaraan ik zelf deelnam. Wel was ik steeds gefascineerd door "de stilte", maar tot de non-dualistische praktijk bleef een antwoord meer theoretisch dan praktisch.Mijn meest concrete bijdrage aan het boekje "the Tao of Dialogue" was de stelling, dat dialoog geen "methode" is, maar een staat van zijn.
Mooie stelling, maar wat betekent dat dan ?
Dat ben ik aan het uitzoeken in een schrijfsel met de werktitel Soul-Talk.
In het kort: we kunnen onszelf en anderen trainen in het voeren van prachtige gesprekken en al doende tot verdieping van de vraag "wie ben ik" komen.
We kunnen onszelf ook ontdekken als primair tijdloos, ruimteloos, naamloos etc. bewustzijn en vanuit dat (bewust)-zijn gesprekken voeren, waar nauwelijks enige discipline voor nodig is.
Daarbij onderscheiden we twee identiteiten. Het persoonlijke, dualistische (en zeer nuttige) ik in al zijn glorie en verwarring, en het transpersoonlijke perspectief, dat de verhalen, die we onszelf en elkaar vertellen kan zien en desgewenst kan veranderen of tijdelijk oplossen.
Het persoonlijke ik heeft regels en afspraken nodig, het andere perspectief nauwelijks.
Kunnen we ons op afroep identificeren met dat transpersoonlijke ? Zeker, al heeft dat meestal een regelmatige praktijk als basis nodig, de eerste "tijd".
Als je bewust kennis hebt gemaakt met jezelf als stilte, ruimte, vrede, geluk etc. kun je ieder moment, waarin een gesprek dreigt te verdwalen a.h.w. de verwarring uitademen, je identificeren met het stilte-veld, om van daar uit opnieuw aan het gesprek deel te nemen, al dan niet verbaal.
Staat dat toevallig ook allemaal in Bohm ? Jazeker. Sla bijvoorbeeld zijn laatste hoofdstuk open, "Participatory Thought and The Unlimited".
En na de her-her-lezing werd me duidelijk, dat een Bohmiaanse dialoog niet zozeer gebaseerd zou moeten zijn op wat Bohm deed, hoe interessant ook, maar vooral op waar Bohm zich mee identificeerde, gezien zijn geschriften en zijn gesprekken met iemand als Krishnamurti. En dat is een spirit van een vrije, explorerende, creatieve persoon. Vandaar mij subtitel "een Boh(e)miaanse dialoog", waarin ieder haar of zijn eigen toon en avontuur inbrengt, naar de geest van mensen als Bohm.
Tot slot nog een paar punten, die me in het oog sprongen, deze laatste lezing:
Bohm heeft het vooral over lange en dynamische processen met relatief grote groepen. Processen, waarin "breakdowns" en andere strubbelingen een vitale rol spelen.
Met "Suspend" (opschorten), bedoelt hij vooral het tegen het licht houden van onze eigen en andermans oordelen en verhalen, dus niet alleen het uitstellen van het oordeel.
Weliswaar benoemen een aantal van ons het "geen agenda" als een typisch Bohmiaans element, maar hij spreekt wel over (soms lastige) processen om tot een "topic" te komen. Trouwens, Bohm heeft m.i. wel degelijk een fundamentele agenda, namelijk de transformatie van persoonlijk en wereldbewustzijn. "There is a reason for dialogue. We really need to have it". Geen kattenpis.
"Listening" houdt ook in naar jezelf luisteren. Proprioceptie (zelfwaarneming) van lichaam, gevoelens en gedachten).
"Thoughting" vs. Thinking en "The art of thinking together".
"Shared meaning does not mean we agree".
Dialoog met agenda noemt hij weliswaar "limited dialogue", maar is wel degelijk dialoog en zeker, als je staat van heel-zijn het uitgangspunt is.
Het was een mooi avontuur, het opzetten van deze Bohm.